1
(click any button image below for more information of most interest to you)
click the image above for more information
click the image above for more information
note: above link is outside of this website, but is authored by I-Imagine
click the image above for more information
A Winter's Tale - An original pory (poem +story) set to music by Dahni, for the holidays, just for you!
click the image above for more information
Christmas Critters (The Animals that Saved Christmas) - A four five (another grandchild was born) part Christmas story for children of all ages beginning with, 'Jack & Miles the Christmas Ferrets.' Each December a new story will be written and shared in the order of the grand children's birth. Year 2 is, 'Leona the Christmas Lamb', followed by 'Kai the Christmas Koi and then, Felix the 'Christmas Roo' (kangaroo)
click the Christmas Critters to begin the journey
Annual Advent Calendar - Our 15th and final, annual online Advent calendar pre-opening Thanksgiving November 22, 2012. Click below to find out what it's all about.
click the card above for more information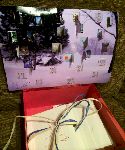 to: Are you interested in a custom made Advent Calendar?
click the card above for more information
Maybe You Are Out of Shape IF:
The Five Tibetan Rites
Ravnsong Music - Have you ever wanted to play the piano, improve your playing or improve your singing voice? Professional instruction is available at Ravnsong Music with over 25 years of professional experience. (ROCHESTER, NY AREA ONLY) For more information please click the link below.
click the piano above for more information
note: above link is outside of this website, but is authored by I-Imagine
'The Fly' Photography - "On the wall or at Your call" - Candid shots & Crafted Portraits - Unique Weddings & Special Events Specialist! I am 'The Fly,' affectionately so-named by Reverend, WWII veteran and current president of the U.S.S. Murphy Sailor's Organization, Rev. Mr. Otis Essex. My name was given to me as I'm always around like a fly on the wall for those special candid moments and at your beck and call for the crafted or set-up portrait shootings. I have been the official photographer for the U.S.S. Murphy for several years, attending their annual reunions all over the country. My work involves much more than taking portraits at each banquet which concludes their annual reunion. I am embedded with them, travel and go where they go and do what they do. A CD and what is called a 'Memory Book,' which includes several photographs, text and some of my original artwork, are produced by us each year. In addition to these, I have worked on other projects as graduations and other special events. I Love doing these kinds of gatherings, special events and so forth, but I have long resisted photographing weddings. Well this recently changed. We just got back from Florida having experienced the entire event from Day-b-4, Rehearsal Day, Wedding Day, Wedding Ceremony, Portraits and Reception. Got the bug, loved it, loved it! What I offer is unique. Most photographers work just a few hours and that's pretty much it for a wedding. What I offer (for about the same price) is to be there for the whole event, "On the Wall" - candid shots and at your beck and call for portraits. Plus I am also an artist and a writer so you get all three - a photojournalartist. I will travel and we can work this out. Will work with your budget. Nothing gets missed, every detail done. So you might as well just plan on sending me an invitation, just like your other guests, because I'll be there for the whole event. We don't take photographs! WE make memories you will love a lifetime! Lets get together and plan on something unique inside or outside. For more information please click the link below. Contact me and let's dream and I-Magine together. Maybe we will not work together, but maybe during this FREE consultation, you just might gets some ideas that will make your Special Day UNFORGETTABLE! And I'd still take great pleasure in that. For more information and to contact me directly, please click on the link below.
click 'The Fly' above to view the NEW starter page
note: above link is outside of this website, but is authored by I-Imagine
click above for more Information on - 'Dum-Ass Greeting Stories' by Dahni
or
any category below
Products & Services v Income Building v Educational v Special Services
You Are Presently surfing 'Navigate' in 'Special Services'
Home | Welcome | Navigate | About I-Imagine
Products & Services | Income Building | Educational | Special Services
click on any link above
for questions and concerns about this site:
Copyright © 2003 - 2015 I-IMAGINE All rights reserved.
I Privacy Policy I I Copyright Notice I I Contact Us I